Please help the San Francisco Homeless Resource improve!
Take a minute to answer our short survey HERE
Your answers are anonymous and will help us better understand how people use this resource.
Welcome to San Francisco Homeless Resource
a resource directory that anyone can edit
San Francisco Homeless Resource is a collaborative website for homeless advocates, providers, government and others in San Francisco. The wiki is a new evolution of how all parties helping the homeless can get together and share information efficiently and quickly.
The site can be updated by any user, so everyone can add and update information -- allowing much greater efficiency in serving the homeless community in San Francisco.
Check out the Frequently Asked Questions page to learn more about how to be a part of the wiki!

1,153 articles since December 2006
Basic Instructions for finding services:

1. Click on All Pages or Categories in the menu above this line. This will give you access to the agencies and services if you know their name.
or 2. Type in the agency name or service in the search box below, or use google by clicking below the search box.
Simple Search
For a more thorough search of content, use
Google's "site search".
Add your search terms after site:sfhomeless.wikia.com.
Notices
* IMPORTANT WIKI NEWS 2015! January 2015 marked the 8th year anniversary of SFHomeless.net. The website receives up to 2,000 hits a day and is prominently featured in top Google search results. Yet despite this important role the wiki plays in helping promote our City's homeless resources, we still do not have regular contributions (page updates and edits) from the people who use the database... YOU!
David, one of the primary administrators of the site, will be leaving San Francisco at the end of May, and we need YOUR help to keep SFHomeless.net updated, maintained, and useful. We put together a list of things that need to happen in order to keep things going. CLICK HERE to check it out.
Let's keep SFHomeless.net a resource owned by the community and maintained and used by everyone, including agencies, local organizations, and, of course, the people who depend on the website everyday.
That was the dream in 2007 when we started SFHomeless.net, and 2015 will decide its fate. If you use and love SFHomeless.net, and plan to be in the SF area for a while (years), then please contact David to discuss becoming an administrator and keep SFHomeless.net alive for years to come. Thank you.
* NEW DIRECTORY MAPPING FUNCTIONS! SF Homeless Resource has received a generous charitable donation of programming from BRUTE LABS in the form of mapping/directory summaries added to each of the wiki's hundreds of agencies. You will see these summaries on the page, but you can also see them as they are regenerated on projectOPEN so that they can be seen together and used in various searches. Thank you BRUTE LABS!
* SF HOMELESS RESOURCE WIKI IS AD FREE! SF Homeless Resource is a non-profit administered resource web site and is being hosted without ads! We hope that this change will allow users at concerned agencies to contribute more freely, or permit their employees to use SF Homeless Resource without violating any internal internet usage policies. Enjoy!
* OUR FACEBOOK GROUP! - SF Homeless Resource Wiki Facebook Group - We will use this Facebook group to promote SF Homeless Resource Wiki. Please join and tell people you know who would be interested in joining.
Veterans
Department of Veterans Affairs:

SF VAMC Fort Miley

|

SF VAMC Downtown Clinic

|

SF Vet Center

Other Agencies:

Swords to Plowshares

|

VETERANS CRISIS LINE: 1 (800) 273-8255

NATIONAL CALL CENTER FOR HOMELESS VETERANS: 1 (877) 424-3838

Please be aware! Veterans have access to all general services besides government VA services, including county, GA, food stamps, housing, etc.
How Do You ... ?
SFHomeless.net's new Portal for answering basic questions for how to help the homeless!
---> How Do You - Main Portal <---
How do you get into a shelter? How do you get benefits? How do you get into supportive housing?
Community edited and supported, and still needs expert contributions to the answers. Please help!
SF Bar Association, Volunteer Legal Services (VLSP),
Homeless Advocacy Project (HAP) Resource Manual, 2013-2014 Edition
SFHomeless.net Wiki Updates Project
The 2013-2014 HAP Manual has many changes that are not currently part of SFHomeless.net. The question is whether the wiki or the manual contains the most up to date information.

The most efficient way to ensure the wiki has the best information is to add the 2013-2014 HAP Manual text into its respective wiki agency page under a new section "2013-2014 HAP Manual". It will then be up to future wiki users to determine whether and how to update the agency page with the new information. A "Needs Clean Up" category will be added to pages with new 2013-2014 text added to them.
When a user has finished the clean up task for an agency, the user should
(1) remove the 2013-2014 section, and
(2) remove the Clean Up category, and
(3) remove this 2013-2014 HAP template.
Percent of 2013-2014 HAP Manual added to SFHomeless.net: _ 0%
Number of Agencies needing 2013-2014 Clean Up: _ approx 700
Category: Needs Clean Up
W i s h _ L i s t
We have received lots of feedback from all of you saying how much you love SF Homeless Resource Wiki! But this site isn't about us making some changes here and there, but about you coming forth with your knowledge and wisdom and sharing it!!
Wish 1: More people pressing EDIT on the top of the agency page they're visiting -- and then adding useful info, or new info, or changed info, etc.!
Wish 2: Please contribute to the How Do You - Main Portal. In it you the expert share with others how to do something that you probably explain to others all day long anyway. I hear from people all the time how they don't know common procedures, and don't know where to go to get some info. PLEASE HELP by writing down the answers to these questions and then you might not have to answer them on phone so much because this page will turn into this great resource that people will naturally check first before calling you!
Wish 3: Please contribute to the newly created Homelessness Policy Overview page. There is so much policy angst in this City with all the different approaches to all the different areas of how we help the homeless, that we need a place to write it all down to properly educate ourselves. And not just for the provider community but the public too. They need a place beside the media to get arguments for-and-against these different proposals that seem to come out every week.
Wish 4: Another plea for Wish 1. It's easy to EDIT info on a page. Click on EDIT on the top of every page and a Word-like page opens up, and you change the info as easy a editing a Word doc. Then press SAVE. You're done. Easy. You've contributed! Thank you!
Wish 5: Please contribute to the newly created Neighborhood Portal Project. This is going to be awesome when it's done. All we need are volunteers to help add Neighborhood categories to existing agency pages. Then one day soon someone needing a service in their neighborhood can click and get help because a client is more willing to go some place local to them instead of going into the Tenderloin or Civic Center where a lot of services seem to be congested.
EDITING AREA
To add a new agency or resource, enter the page title in the box below. To prevent duplication, please Search for a previously existing agency or resource and modify that instead of creating a new entry.
<createbox>

buttonlabel=Add Resource

</createbox>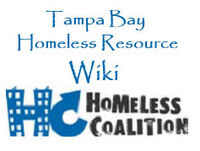 |}|}
|}